UAV and Drone Data Processing
We have a team of GIS experts for photogrammetry data processing to cater to your remote sensing and drone survey requirements. Our bunch of high power processing work stations with high capacity RAM and GPUs can be used to process large area datasets. Seamless orthophotos, Topographic Survey, Digitial Surface Model (DSM), Digital Terrain Model (DTM), high densitty contours as per your interval requirement can be delivered within short time intervals.

Further analysis can be carried out for volumetric analysis, cut fill estimation, 3D feature extraction, base map generation for various industrial applications such as town planning, land record digitization, project progress monitoring and mining. The team can also support you in integrating drone data with cadastral maps, satellite imagery, CAD automation and report generation.

We can also assist you in processing drone inspection images to find out defects in your critical assets. With our team and our computer vision expertise, we can automate drone inspection report generation and deliver quicker results compared to manual processing.

The processed data produces desired output and reports are generated. Through the dash boards analysis can be done and KPI can be measured and monitored.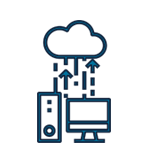 PROCESSING

OUTPUT GENERATION

REPORTS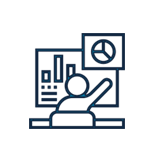 DASHBOARD
Output Served